A better way to keep your site running smoothly.
Piestar is introducing System Watch, which will notify designated individuals of when there is something on the site that needs to be addressed. When this happens, a widget will appear at the top of your dashboard with a link to direct you where you can find out more details along with information on how to resolve it.

In addition to the System Watch widget, you will also receive scheduled emails notifying you of matters to be aware of. So what sort of things will System Watch look out for? Here is what you can expect:
Module Assignments – If someone is assigned to report in a session but their role is not assigned modules to complete. To resolve this you are given a link to edit the affected session and make sure modules are correctly assigned. You will be notified daily until the role has been assigned modules.
No Project Session Users – If a project is assigned to report but no users from the project are included. You will be given a button to remove the project from the session or you are able edit the session settings to include people to report. You will be notified weekly until you decide how to resolve this.
Mismatched Names – Multiple names/emails could be associated with accounts. This can happen when a user's name/email is reported differently in certain modules and can be synced together. You can decide which name/email to keep with a simple press of a button. You will be notified weekly until this is resolved.
Failed Emails – If an email fails to be delivered then you will be notified. By selecting the email link, you can see the email's subject, recipient, as well as notes with information as to why the email failed. If an email fails, you will be notified the next day.
Site Initialization – If your site needs to be Initialized for the next Reporting Period/Year. This can serve as a reminder to get that done before starting your next Reporting Session. You will be notified monthly until the site is Initialized.
You will be able to manage everything listed above on one page and can find it by selecting "System Watch" under the Manage tab.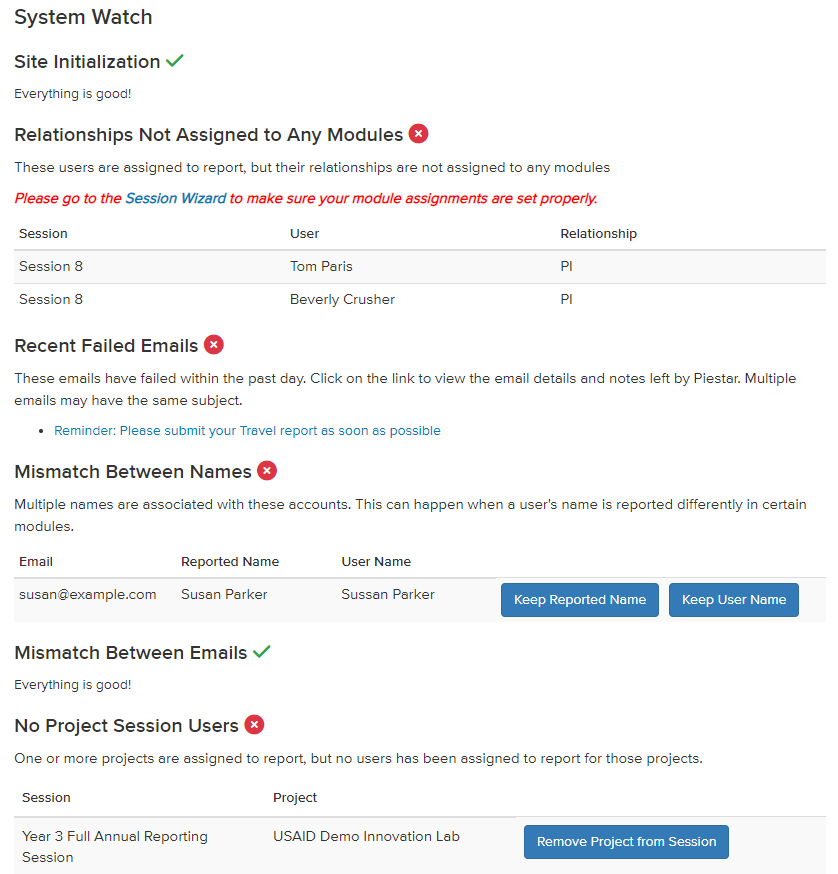 As always, please feel free to reach out to Piestar at support@piestar.com with any questions, concerns, 
or suggestions. We are always eager to hear ideas that our clients have to help better improve our system!