A new sign in experience.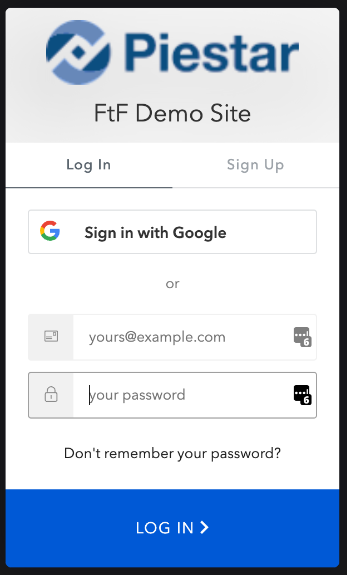 Piestar's new Log In Page is now here. For those who already have accounts, logging into the site will mostly be unchanged. You will now use a single sign-in for both DPx, RFx, and other Piestar sites that you have an account with. If you currently use different passwords for one of your sites, use the "Don't remember your password?" link to update your password across all sites. If your email account uses a Google domain, you can also now sign in with Google.
If you are creating a new account for someone in DPx, first create their account in the Piestar site. When they receive their welcome email they will be directed to the "Sign Up" page where they will enter their email address and set a password. When finished, they will then use the Log In page to sign in.
For creating a new account in RFx, you will start by using the Sign Up page and either Sign Up with Google or use your email address and set your password. Then use the confirmation box to confirm your email is correct and select "Sign Up".
If you are trying to sign up for either site and you get a message indicating there was a problem, it is likely that you already have an account and just need to use the Log In page. If you need to reset your password, use the "Don't remember your password?" link at the bottom to reset it.
As always, please feel free to reach out to Piestar at support@piestar.com with any questions, concerns, 
or suggestions. We are always eager to hear ideas that our clients have to help better improve our system!