Piestar and ERcore are both reporting systems used by multiple NSF EPSCoR jurisdictions to collect Appendix A-E data. What's the difference between them?
Progress Monitoring
Piestar contains a Progress Report to show the percent complete for each researcher's reporting, as well as an Activity Log to monitor reporting in real-time.
Intuitive Forms
Piestar simplifies complex reporting tasks to improve the accuracy and speed of reporting. For example, we created a Custom Event Attendees Form to improve Appendix D attendee reporting. The Piestar Guided Reporting Process is optimized for the needs of NSF EPSCoR projects, which reduces confusion and improves reporting accuracy and compliance.
Included Technical Expertise
Both Piestar and ERCore require IT personnel to install, secure, backup, and customize the systems. Piestar is a Turnkey Solution supported by a team of Professional Software Engineers. Always just a phone call or email away, Piestar clients value the professional and immediate responsiveness. Piestar provides Unlimited Training, Unlimited Technical Support, and Module Customizations.
Automated and Manual Emails
Piestar sends Customized Launch Emails each year to researchers with Personalized Login Links to make it easy to sign into the Piestar system. As reporting deadlines approach, Piestar sends Automatic Reminder Emails to researchers who haven't finished reporting, lessening the burden on program coordinators. Additionally, Piestar makes it easy to send Customized Email to researchers at any time.
Better Reporting
Generating the Appendix A-E reports is the easy part. Piestar includes Supporting Data Worksheets with each Appendix report to help ensure data is accurate. Additionally, several Web Reports and Additional Excel Reports are included to aid data management. Here are a few:
User Progress Web Report – contains all data entered by a researcher, filterable by year.
Data Summary Web Report – contains all data in the system, filterable by data type, project or year.
User Progress Excel Report – shows reporting percent complete for each user for the selected year.
Publications Summary Excel Report – shows publications disaggregated by publication status and geographical level.
Research.gov Participants Excel Report – shows researchers in a format aligned with Research.gov reporting requirements.
Many more
Data Cleaning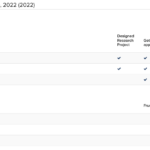 The Data Cleaner tool allows you to quickly fix data entry mistakes and Mass Compare and Edit several entries at once. For example, when the same publication is entered by multiple researchers, Appendix E requires only reporting it once. The Data Cleaner gives a Visual Synchronization Indication to show which records will be combined in Appendix E.
Sub-project / Sub-award Support
Piestar includes full Sub-award Support, for tracking REUs (Research Experiences for Undergraduates), ROAs (Research Opportunity Awards), or any other project you fund and wish to track. You can assign personnel to a specific sub-award, and even specify what information you'd like to collect.
The Piestar Advantage
These are just a few of the unique features baked into Piestar. To learn more, schedule a Piestar demonstration.